17 Feb

National Text Platform (NTP) for Emergencies and Disasters (ED)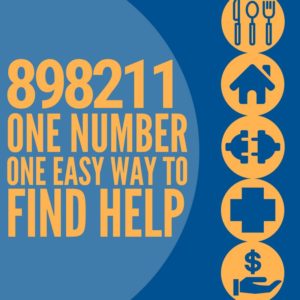 The National Text Platform (NTP) was used as an essential communication tool to provide
information to individuals and families in affected areas.
2-1-1 Centers at 140 locations have been using NTP and SMS/texting for years. The "short
code" 898-211 has long been established, as having texting protocols for many Centers.
However, there had never been a centralized use of the National Texting Platform for essential
services and information delivery during disasters until 2017.
In these ED events the NTP was used for:
● Information & Referral (live two-way help)
● Emergency and disasters response ( push messaging combined with live two-way help)
● Single Issue Services
● Donations (text2give)
● 2-1-1 OnDemand (automated responses)
What is it?
The NTP is enterprize texting on US Sure Route Protocols and Tier 1 aggregation supported by
all US mobile carriers. NTP is powered by applications that provide configurable systems for
instantaneous and specific responses to individual events by any
agencies/responders/administrators throughout the US.
How it works
NTP supports fully automated text communication, live text communication, and is able to
combine both these text modalities as required. NTP has dedicated secure data center
protocols for system and service continuity as well as, end user safety.
Why it was deployed
Texting was identified as a key strategy to ensure people had access to information. The
motivation was two-fold: apply the NTP for the 211 Network to support their affected
colleagues and provide an alternative channel for information as power and cell phone tower
coverage became an issue during these events.
How it was deployed
A request was sent to all current 2-1-1 text message users to request volunteers to respond to
text inquiries the weekend when Hurricane IRMA was anticipated to strike the southeast
United States. More than 70 volunteers responded. The team of volunteer text responders
participated in a virtual training that provided an overview of how to handle incoming texts,
where they could find resource information and how shifts would be scheduled.
Public messages to text "keyword IRMA to 898211" to receive professional, local information
were pushed out through multiple media channels.
Operating the National Texting Platform during Irma
There were several, repeatable steps UWW took in order to respond to disasters via the NTP:
Launch an event-specific keyword, such as IRMA, to be texted to 898-211
Establish UWW as software administrators to coordinate the NTP.
Reach out to current users of 898-211 to identify available volunteers.
Offer just-in-time virtual training to volunteers.
Add volunteers to texting queue so they could respond.
Scheduling volunteers in 2-hour shifts, 24/7.
Provide scripts and canned messages to volunteers for their response.
Develop a website for resource information.
The Texting Platform initially involved providing evacuation, shelter and weather
information. A series of canned text responses were developed which allowed
volunteers to quickly respond to routine inquiries. As the stages of the disaster
changed, so did the type of inquiries. For example, issues related to food, water and
electricity quickly became the most frequent inquiries. As states worked through their
response, Disaster SNAP benefits and food packages were available but in many cases,
the services did not always match where the need was coming from.
After the initial activation, the Florida Department of Agriculture and Consumer Services
(FDACS) promoted the 898-211 text IRMA option beginning Sept. 19th, 2017 to help
people locate food packages available through the Disaster Household Distribution
Program and to learn about Disaster SNAP.
More than 70 volunteers provided text support from September through December
2017. The team responded to more than 2,000 texts in a seamless response. Recipients
expressed their gratitude:
"I greatly appreciate you guys being there for me." And, "Awesome! Thanks for the information."
Using the NTP Beyond Hurricane Irma
Interface Children & Family Services (Ventura County, CA) demonstrated how NTP
automation combined with live texting was extremely effective when fires ravaged
California. Thousands of encounters were handled in a very short time frame. Using
automation and quickly configurable system resources 2-1-1 NTP system administrators
at Interface, with help from UWW staff, met an acute need and was an integral part of
the local community response dovetailing with EOC and other government Health and
Safety Agencies.
NTP has become a very powerful asset for uses in emergency events. It is clear that
having trained staff able to support affected areas in the US is essential. The NTP system
is now pre-configured for the next ED event based on the lessons learned in 2017.
Working together during 2018 will refine these systems and continue to make a
difference with measurable impact in communities.
This work was highlighted during a nationally broadcasted webinar with over 200 registrants. The live broadcast is here: https://youtu.be/TmYy9H6_nfw
For a list of panelists and their contact info, please email "[email protected]"